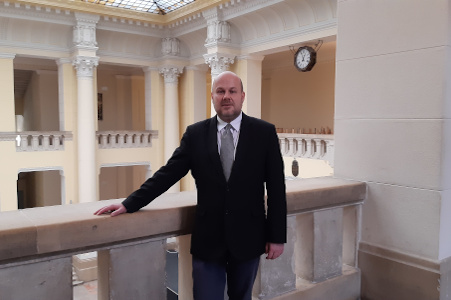 Positions:
Organization Unit:
E-mail:
foldvary.lorant@emk.bme.hu
Room:
K. ép / mf. 26/9.
Earlier presented courses:
Research field:
Satellite gravimetry
Related projects
Selected publications
Kiss, A., Földváry, L.: Multi-annual mass variations from GRACE monthly solution – preliminary results; Acta Geodyn. Geomater., Vol. 15, No. 2 (190), 165-172, DOI 10.13168/AGG.2018.0011, 2018
Földváry, L.: Desmoothing of averaged periodical signals for geodetic applications, Geophysical Journal International, 201 (3): 1235-1250, DOI 10.1093/gji/ggv092, 2015
Polgár, Z., Sujbert, L., Földváry, L., Asbóth, P., Ádám, J.: Filter design for GOCE gravity gradients, Geocarto International, 28(1): 28-36, DOI:10.1080/10106049.2012.687401, 2013
Gerlach Ch., Foldvary L, Svehla D, Gruber Th, Wermuth M, Sneeuw N, Frommknecht B, Oberdorfer H, Peters Th, Rothacher M, Rummel R and Steigenberger P: A CHAMP-only gravity field model from kinematic orbits using the energy integral, GEOPHYSICAL RESEARCH LETTERS 30(20): 2037, DOI 10.1029/2003GL018025, 2003
Földváry L, Fukuda Y: IB and NIB hypotheses and their possible differentiation by GRACE, GEOPHYSICAL RESEARCH LETTERS 28(4): 663-666, DOI https://doi.org/10.1029/2000GL011775, 2001
CV:
Academic Degree
PhD Kyoto University, 2001
Qualifications
Civil engineer (BME, Faculty of Civil Engineering,1996)
Relevant projects
Activity in professional entities
Memebership
International Association of Geodesy (2003-)
Hungarian Academy of Sciences, Scientific Committee in Geodesy and Geoinformatics (2011-)
Hungarian Academy of Sciences, Scientific Intersectional Committee in Hydrology (2017-)
Hungarian Astronautical Society (2018-)
Scientific Council on Space Research (2019-)
Functions
Hungarian Academy of Sciences, Scientific Committee in Geodesy and Geoinformatics, secretary (2011-2017)
ACRSA, professional council member (2017-)
ESA-NAV, delegate (2019-)
ESA-EO, advisor (2019-)
Editorial Board membership
Journal of Geodetic Science  (2010-)
Acta Geodetica et Geophysica (2015-)
Merits
Hungarian Academy of Science, Young Fellow Award (2002)
"For students research" Award (2009)
ACRSA Medallion (2018)
Érvényesség: 2021.04.12.